Artificial Intelligence is 'the hot topic' of 21st century. As we are witnessing the constant evolution of technology. Many new forms of technologies are in news every now and then. But have you ever wondered that can these technologies be used in the marketing industry. Well, in this article we are going to discuss about just that. Our main focus will be on whether and how we can use Artificial Intelligence for Digital Marketing.
Let me first briefly introduce you to Artificial Intelligence
What is Artificial Intelligence?
Hands down Artificial Intelligence is the most famous technology trend of 2021. So, it basically means the intelligence which is artificial. Unlike humans, that have natural intelligence, Artificial Intelligence is the simulation of this intelligence in a machine which gives it a human-like abilities. For instance, ability to make decision, ability to carry out an operation and many more.
The best example I can think of Artificial Intelligence is Sophia, the humanoid robot. She is a robot but she has human-like features such as she can walk, talk and make decisions on her own using the intelligence that has been programmed in her system.
Other great examples include Face recognition technology, Google Maps, Digital Assistants like Siri, Alexa etc.
Now that everything is available on the internet, there is an increasing demand in the storage and analysis of huge amount of data that is produced on the web. Artificial intelligence is an aid to this demand as it has the capability to collect and analyze massive data.
Therefore, due to these advantages it is being used in Digital Marketing as well. AI has the ability to transform the whole domain of Digital Marketing and it is doing so currently.
So, now let me share few ways we can use Artificial Intelligence for Digital Marketing.
Use of Artificial Intelligence for Digital Marketing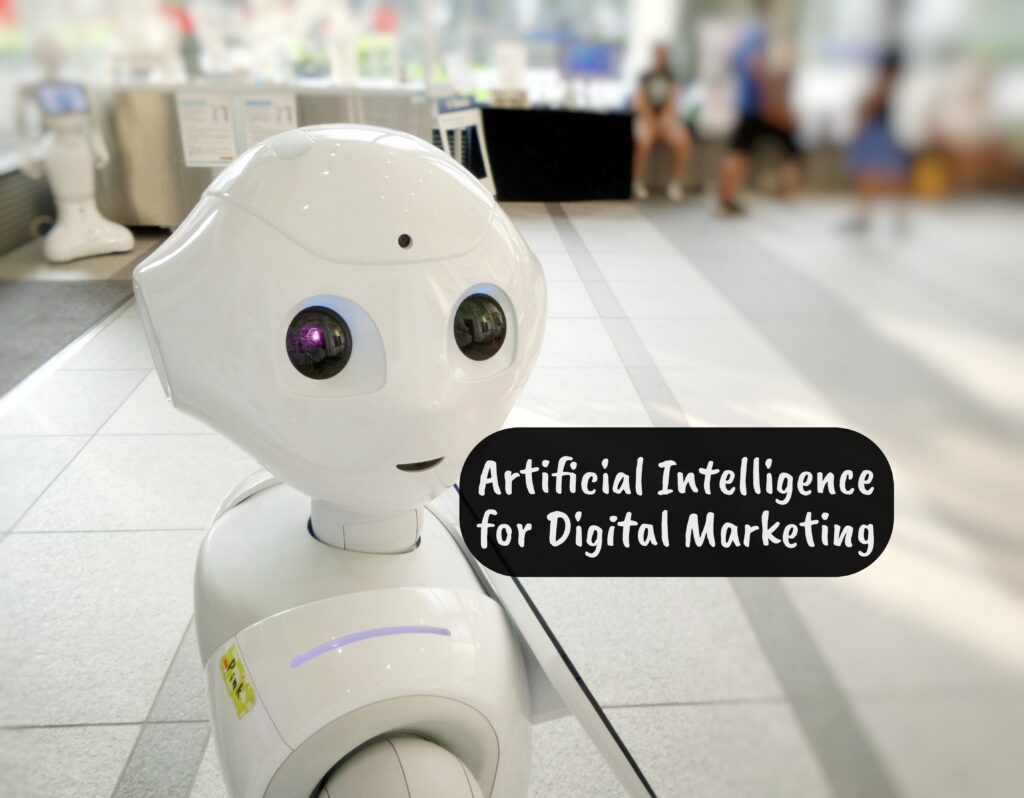 Let's jump right into it
➽ Through AI chatbots
Any Digital marketing strategy thrives on customers experience. Good customer experience means successful marketing. AI can help improve the customer services of a company through the implementation of AI chatbots. Their use is on the rise because they provide satisfying services to the customers.
Chatbots are the one stop destination for customers browsing the products and services of a business website. Customers can ask whatever query they have to these chatbots. They are beneficial in the following ways
An automated welcome message is shown to the customer after which the company can choose to direct the customer to a live chat with customer service representative to ask for any further queries.
AI chatbots are over the conventional one on one interaction with the customers. They can chat and response to multiple clients at the same time in different time zones as well.
AI chatbots can function round the clock or outside working hours. So, your business can provide 24*7 days customer services. Therefore they are highly efficient.
Businesses active in multiple locations outside their country can have language issues with their customers. But with the AI chatbots language barrier is no more a problem. As they provide language preference to the customers which ultimately helps the business deliver location based services.
➽ AI digital advertising
Social media is the best place for digital advertising. More than $273 Billion was spent on digital ads all over the world in 2018. And this data is expected to rise even further. AI is now being adopted in the Digital advertising.
AI analyzes the data of the users demographics like age, gender, their interests and according to that data it shows relevant ads which enhance the performance of digital ads.
It also analyzes the trends using the customers data. It can also predict future trends based on that data. This helps the advertisers to prepare their strategy before hand on where money should be invested.
➽ Email Marketing
This platform is getting popular day by day. AI helps businesses' to personalize email marketing campaigns based on the analysis of user's data. This will help the business to send targeted emails to their potential customers according to their needs and preferences. Product recommendations will also be emailed using the user's behavior data analysis.
AI automates the process of sending emails to thousands of people. It will also help businesses reach their potential customers by sending them only relevant and engaging information about offers on a product which will increase the chances of their conversion.
➽ Content Marketing
Using the user's data, AI can analysis the type of content best suited for a particular sect of audience. As we all know the importance of content in marketing. AI informs the company what type of content their audience is looking for. What type of content is trending and is in demand among the people.
Based on the data analysis it will recommend businesses as to what form of content they should put out. For instance, video content is very popular these days. So, you can create video content based on the trends suggested by the AI analysis.
To wrap up
So, that's how AI can be used in various ways in the field of Digital Marketing. Many businesses have already started implementing AI in their work. For instance, e-commerce giants like Amazon and other big companies like Microsoft, Google, Apple etc. So, it is necessary to take advantage of this technology.
Just get in touch for more informative and interesting articles.