Are you planning to start Outbound Marketing? This article will answer all of your questions regarding outbound marketing.
Let's jump right in
What is Outbound marketing?
Outbound marketing is when you start conversations with your customers in order to attract them to your brand. For instance, cold calls, TV commercials, paid ads and direct mails are all included in outbound marketing.
On the other hand, Inbound marketing, is when your customers starts a conversation with you. For instance, by visiting your site, downloading a white paper, or read an e-book.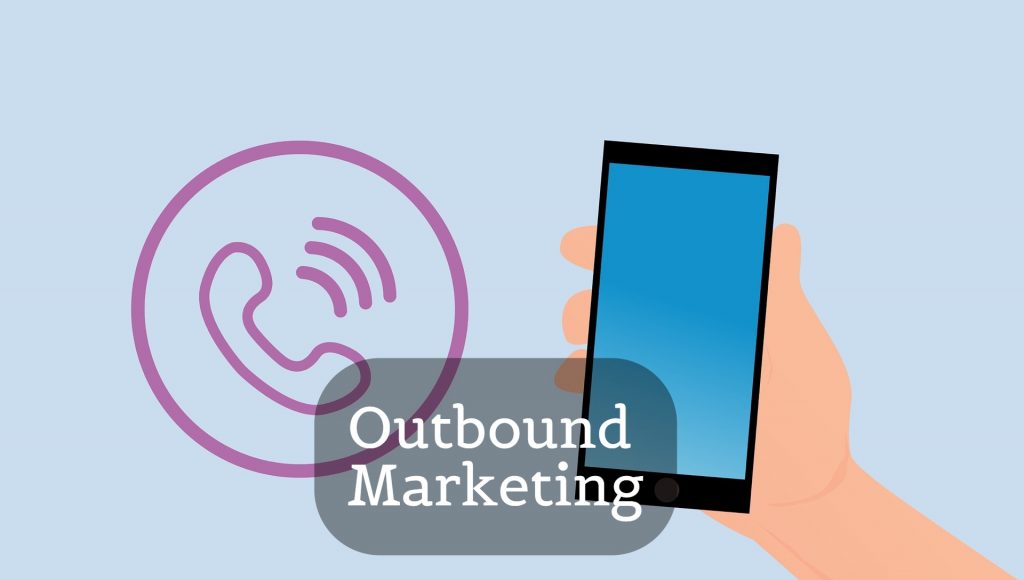 The objective of Outbound marketing is to actively build real relationships through engagement, targeted communications, and putting your company in the right place at the right time. You need to allocate your budget to the methods that work for your brand in order to improve your ROI in Outbound. Let's talk about the relevancy before covering the strategies.
The question before us is:
Is Outbound Marketing relevant anymore?
Who does not love to cut costs? Perhaps every business owner does. When you, as a customer, quickly delete a sales promotion email from your inbox without taking a look at it, you may ask why that business would consistently continue with an outbound strategy.
The probability is, they've built a huge mailing list and their promotions go to each and every email address—paying no heed as to if every customer is directly their target audience.
Why? They've put resources into building a mailing list, and outbound marketing is still a very helpful tool. It's incredibly good at driving brand awareness (as long as your emails aren't repetitive enough that a customer ends up hating you), maintaining brand relevance, and introducing products with new audience. It assists you with being at the forefront of your customer's mind, for recommendations, word-of-mouth marketing, and lead generation. Inbound marketing is incredible, and particularly for smaller and low-budget businesses, however if customers don't have a clue about your products exist in the first place, they can't look for something they don't know about.
Outbound marketing promises you reach individuals. You will not be yelling into the void. Blogs are incredible for SEO and hoping Google's Algorithm will take pity on you, yet when you pay for a TV advertisement in a half-time break of a famous show: you realize it will be seen.
It can be costly, however, when done correctly, it actually gives a good ROI is as relevant today as a complement to inbound marketing.
Now let's see some Outbound marketing strategies that you can try
Outbound Marketing Strategies you Can Adopt
There are various ways to reach your target audience. Most of the marketing strategies become successful through a combination of different strategies whether it's inbound or outbound. Sometimes, it will take lots of different strategies to produce the results and accomplish the marketing goals.
Here are few Outbound marketing strategies you can use to boost your marketing.
Let's have a look at them
✅ Direct mail
I agree that most of the world has gone online. However, there are still some group of people who have still not reached this online platform. For those, Direct mail is the best way out. And let's face it, who does not like mails in their mailbox with their names written on it. This is an effective way of Outbound marketing. An online study found brand recall is 70 percent higher among participants exposed to direct mail than an ad.
It may not have the fancy analytics, and you may not be able to put a GIF on it. But, it is a good way to gain traction for your brand. In direct mail, it is necessary to remain targeted with your approach and segment people based on past purchases, location, demographics, etc. you should be creative which will help you stand out amongst the crowd.
✅ Cold Email
Email is not new but it is still bringing the maximum ROI for marketers. We are all used to receiving newsletters from websites, but we seems to be forgetting about an important outbound marketing strategy: Cold Email. Cold Emails are basically unsolicited emails you send to your prospects. You are starting the interaction, so it firmly fits in with the principles of Outbound marketing. Nobody likes to receive unsolicited emails and spam is the worst.
But what if the emails do not feel like unsolicited emails? What if they are super-personalized, respected your customer's time, and really offered value to them beyond a product that can fix "all of life's problems? "
Outbound marketing doesn't need to be pushy, impersonal, sales-based spam. It can have all the creativity of inbound marketing. Utilizing your understanding of your target audience, you can make cold emails that get reactions and create leads.
Here are few things you need to focus on with respect to cold emailing:
cleaning your list: ensure you're reaching at live emails
engaging subject lines: earn the click
personalization: make people feel like they're not the millionth individual to get this email
offering value: you need something from them, what would you offer them in return?
A/B test everything: subject lines, signatures, CTA's, span between each email, the time you send each email, and, obviously: the copy itself
Little details have a major effect, for instance, 30% of people open an email based on the subject line, so ensure you're optimizing each part of your outbound marketing.
✅ Social media Ads
Over 4 Billion people are using social media currently. On an average, daily usage of social media is 2 hours and 25 minutes. In social media marketing, it is important to reach the audience where they are handing out most of the times. You can do that by running ads. If you are not, then you are missing out. Social media is becoming an outbound tool by using more and more "pay to play" strategy. Paid marketing tactics increase your website's traffic, boosts reach, and increase brand awareness.
✅ Social Ads
Paid search ads can be viewed as a cross of inbound and outbound marketing. While the targeted user has likely actively looked for information related to your products, you're still artificially placing your brand before them in a manner more suggestive of outbound marketing. Search ads are incredible for sure-shot achievement. With SEO, you write an article and watch as the search engine slowly begins to rank it. When it begins to draw traffic, it's an astounding tool since you're not paying for clicks, but it takes time and there's no guarantee of achievement.
✅ Cold calls
Outbound doesn't generally have the best reputation and cold calls absolutely fit this image. Regardless of this, the truth is cold calling works for many companies.
Sales and marketing are still about reaching new audiences and beginning conversations and that is exactly what cold calling permits you to do. Obviously, there are good and awful methods of doing this and you need to consider your approach cautiously.
Again, it's not difficult to see cold calling and believe everything's about numbers. Of course, outbound depends on volume, yet the main perspective is still quality, in this case, the quality of the conversations you can have. You should keep few points in mind before starting cold calling:
Invest in the right software. By doing that you can save so much of your time and make you more efficient.
Consider your brand image- don't be pushy, work on growing relationships.
You should research your project list: make sure you are reaching a target audience.
Respect people's privacy: take people off your contact list when requested.
Wrapping it up
No matter what anybody says, but one thing is for sure, Outbound marketing is still relevant today. It is a great strategy to adopt. It will complement your inbound marketing strategy and other marketing strategies as well. The competition in marketing field is rising day by day. You should understand your target audience, their pain points, and then provide the possible solution to them. So, these were some Outbound marketing strategies that you can adopt to achieve your marketing goals.
Not sure how to start Outbound marketing? Hire Digital marketing Agency in Singapore or Digital Marketing Agency in Dubai.
For more informative and interesting articles, get in touch with us.