Have you ever wondered why does Google remove content from its index? Don't stress yourself, this article will answer that. So, Google generally chooses to exclude some web pages because not every optimization is a good one, and some content does not provide good answer for searchers. You may be knowingly or unknowingly publishing spam pages in pursuit of SEO or trying to deceive Google's algorithm. So, you must stop doing that. You must be following some shady practices that might be making Google to deindex your site. If you don't know what are those practices just read this article till the end. In today's article, I will be talking about some shady practices that you must stop following to avoid deindexing by Google.
Let's hop on
Stop following 9 Shady Practices to Avoid Deindexing by Google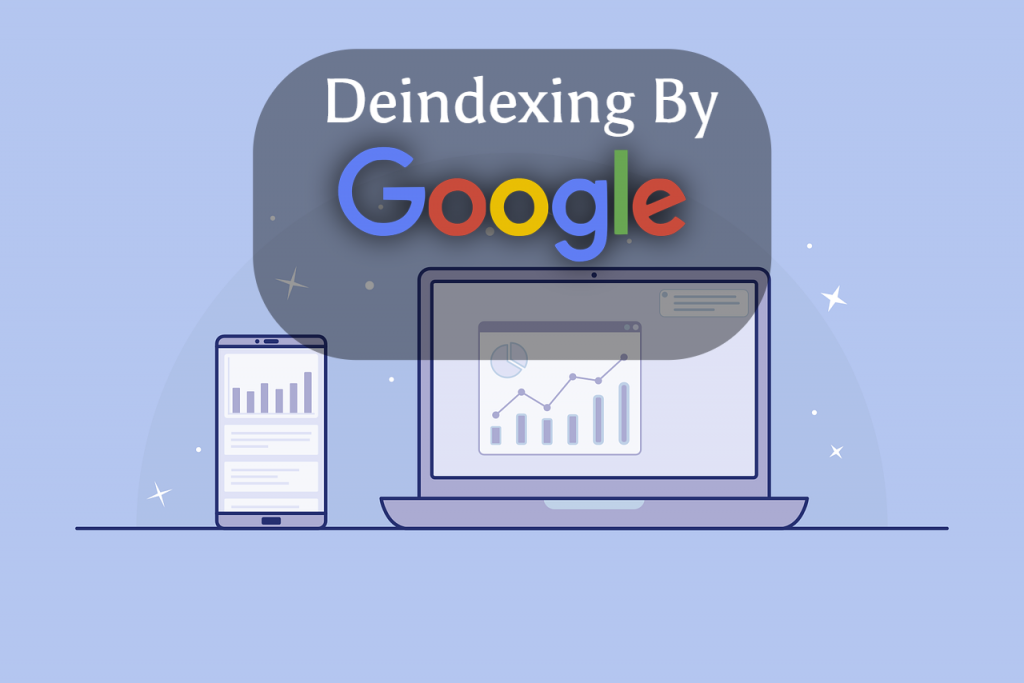 Here I have compiled nine shady practices that you must stop following if you want to avoid deindexing by Google.
Let's take a look at them
1. Spammy pages
According to an online survey, on an average, Google finds over 25 billion spammy pages. Google finds several spam mechanisms on various websites. As per Google's 2019 Webspam report, the top three spam trends are
User-generated spam
Link spam
Spam on hacked websites
If you deceive users and search engines by creating suspicious pages or leaving your comment section unprotected against user-generated spam, this will increase the odds of Google removing your URL from the search results.
2. Keyword stuffing
Keyword stuffing is one of the most common shady practices you will come across on the internet. It is the practice of placing irrelevant specific keyword excessively throughout a piece of content. Keyword stuffing may look like an easy way to increase your rankings, the chances of Google removing your website from search results remains high. So, try to mention keywords in natural places such as
URL
Post title
Metadata
Introduction
Sub-headings
Conclusion
Body(Scantily)
And the most important thing is that keyword placement should have a relevant context. Not sure how to go about your keyword strategy? Get in touch with Digital Marketing Agency in Gurgaon.
3. Copied content
Google does not pardon copied content or duplicate content, whether you steal content from other websites or reuse your own content. Often times, Google removes plagiarised content from the SERPs. Therefore, you must create original and high-quality content in line with search engine rules to avoid such situation. If you still have to include copied content pages on your website, use the x-robot and add a noindex tag and nofollow HTML Meta tag. Here are 7 tips to make your content marketing effective
4. Phishing and Malware Setup
Google prohibits cybercrimes, whether phishing or setting up malware like Trojans and computer viruses. Google's content removal system activates if you create malicious webpages to:
Hijack user system functions
Corrupt or delete essential data
Gain unsolicited access to user's sensitive information
Track user's computer activity
5. User-generated spam
Let me tell you that user-generated spam may show up on high-ranking websites, excessive user-generated content can lead to Google removing your URL from Google search results. This is usually practiced on platforms that allow users to access tools and plugins to create their accounts or add comments. For instance, comment spam on blogs and forum spam-with malicious bots spamming the forum with links to viruses and malware.
6. Low-quality content
Low-quality content is the common culprit behind removal of content from Google search faster than you think. If you post meaningless, duplicate, or irrelevant content for keyword ranking, your content may get removed from search results. Hence, make sure you only put out high-quality, authentic, and relevant content that your audience will find useful. Reach out to Digital Marketing Agency in Kolkata for the best content marketing services.
7. Robots.txt. file
If you have a crawl block in your robots.txt file, you will most probably end up removing your URL from Google's SERPs.
"Page cannot be crawled or displayed due to robots.txt" is a standard error message that appears when your web pages are not crawlable. Update your robots.txt file, if you didn't want the page blocked, so that Google crawlers know to index the page.
8. Bad guest posts
Guest posting is really good for SEO if you do it the right way. Google will deindex and remove your site from search if you publish low-quality guest content that link to spammy blogs and also if you don't set strict guidelines. So, if you want to prevent your site from being deindexed by Google make sure the guest posts you create is quality, valuable, and relevant. Here are 9 Important SEO factors you need to get right
9. Hacked content
Hacked content is a cyber-security matter. It refers to a content found on website without your content-included through a security backdoor-to attack privacy or resources of users. Hacked content can cause the removal of your website from Google search just like website malware does. This type of content is removed by Google from search results in order to ensure user's safe browsing.
Wrapping it up
So, now that you know some of the most common shady practices followed by marketers that result in the deindexing of your website from Google. You must check which amongst the above mentioned shady practices you are following. If you find one, stop following that, else your site can be removed by Google. When your site falls short of Google's guidelines, it will remove the content. Stick to the rules and guidelines and create high-quality, original content that takes care of searchers' intents to keep growing your website's presence in search.

For digital marketing services, consider hiring Digital Marketing Agency in Delhi.