If you are looking to set up a community page on Facebook, then you have landed at the right page. As we all know, Facebook is the largest social media platform in the world. It has over 3 billion monthly active users due to which its popularity among business owners has increased over the years. Many brands and companies have already started creating their social media presence on Facebook.
One reason why Facebook is popular among companies is the level of engagement it has. People engage with their peers, family members, and brands on Facebook. One such platform of Facebook engagement is Community Page. Community page is a platform on Facebook where you can interact and share your thoughts easily. This is a new concept though and community pages have created a lot of buzz over the past few years. It has created confusion in lot of minds. You may also have many questions in your mind like why you should start your community page or how to set up a community page? Hence, in today's article, I will be telling you some simple steps you can follow to set up a community page on Facebook.
Let's jump right in
First off let's see what community pages are.
What are Community Pages?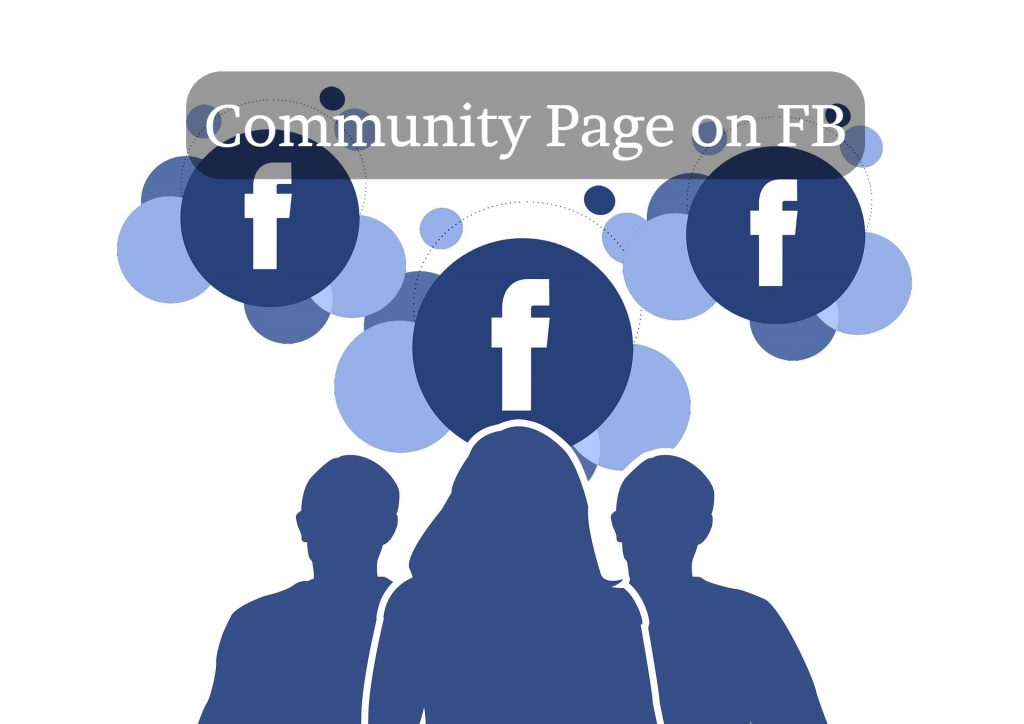 Community basically means a group of people or individuals sharing common interest or thoughts together over a topic. Facebook took this thing into consideration and launched community pages platform in 2010. On community pages, Facebook users can join groups of common interest and can share their thoughts and simply have a conversation which is unofficial, generic or not related to any business ideas.
As you may have observed, Facebook is full of unrelated comments and posts. This was the main cause behind the birth of community pages. They provide a platform where people can talk or discuss over a relevant topic of interest. Facebook has the authority to take control of the community pages once it reaches the height of popularity.
Need any help regarding How to start Facebook Advertising? Digital Marketing Company in Gurgaon will help you out.
In what ways community pages are different from other pages of Facebook?
A community page is different from a fan page, business page or any other page of Facebook. How? Let's see
The usage of the pages sets the difference in pages.
All about pages: Facebook pages or fan pages are meant to broadcast information by official pages of brands, organizations, celebrities' etc. while, community pages are a place for discussion and foster forum system to share their interest even organizations can adopt it. Profile page is the account of the user where you can have your real account and the initial step. Community pages are the place for sharing interests and topics.
Usage: profile pages have friends, fan pages have fans, and groups have members. They can't be mixed as it could violate the rules. According to Facebook, you can't setup up your profile as a fan page or profiles representing their business or organizations. Same is with community pages.
Adoption by Facebook: one difference between community pages and other Facebook pages is that once you get thousands of followers, Facebook will then control and maintain it itself. Here are 7 Facebook marketing mistakes you need to avoid
Types of Community Pages
Community pages are of two types:
Facebook Administered: these are auto-generated pages that came into existence from Facebook users personal profile info tab section- "Likes and Interests" & "Work and Education". Around 6.5 million such pages were generated by April 2016.
Users Administered: this page is created by an individual user and maintained by him till Facebook takes charge of it.
Now let's see some steps to set up a community page on Facebook.
Steps to Setup a Community Page on Facebook
Here are some steps to set up a community page on Facebook
First off, if you want to create a community page you need to have a personal Facebook profile or account. It is mandatory. If you do not have a personal account, you have to sign in to create one. Make sure it is original and personal and not the business or organization you are representing.
The first step is to click on the button "Create a Page". You have to choose between Fan Page/Community Page and Group.
The second step is to type the page name that you want (it could be the name of the organization, mood, interest.)
The third step is to click on "Create Community Page". Then, your page is live.
Now that you know how to set up a community page on Facebook. Let's see how you can benefit from a community page.
How you can benefit from such a page?
Community pages can be really beneficial in increasing your visibility. There are many benefits of having a community page. Here are some benefits mentioned below
It encourages interaction and engagement.
It helps to improve your marketing skills and tactics.
Better customer retention and customer satisfaction.
It enhances chances of customer creation.
Enhances presence on online channels and platforms.
Increase sales enablement for business owners.
Wrapping it up
Community pages can be really helpful to enhance business and promote brand awareness. The main limitation is that the right of the admin is lost when the page reaches thousands of followers as in that case, Facebook takes it over. So, these were some important information about community page on Facebook.
Not sure how to start social media marketing? Hire Digital Marketing Company in Noida or Digital Marketing Company in Bangalore.