WhatsApp is back with a new update and some new developments as well. Not only WhatsApp but every social media platform and other internet platforms get update every now and then. The motive of these updates is to improve the quality of the user experience the platform provides whether on desktop or on mobile phone. The user experience is the most important aspect when it comes to internet.
Website ranking is also based on the quality of user experience a website provides. Google prefers to rank those sites that provide good user experience to their visitors. Hence, it is very important for websites, especially social media platforms to come up with various updates with the objective of improving the user experience. In today's article I am going to talk about some latest updates WhatsApp is rolling out and a new development regarding few updates.
Also read : Why you need social media for marketing a small business?
Let's jump right in
Latest WhatsApp update you must know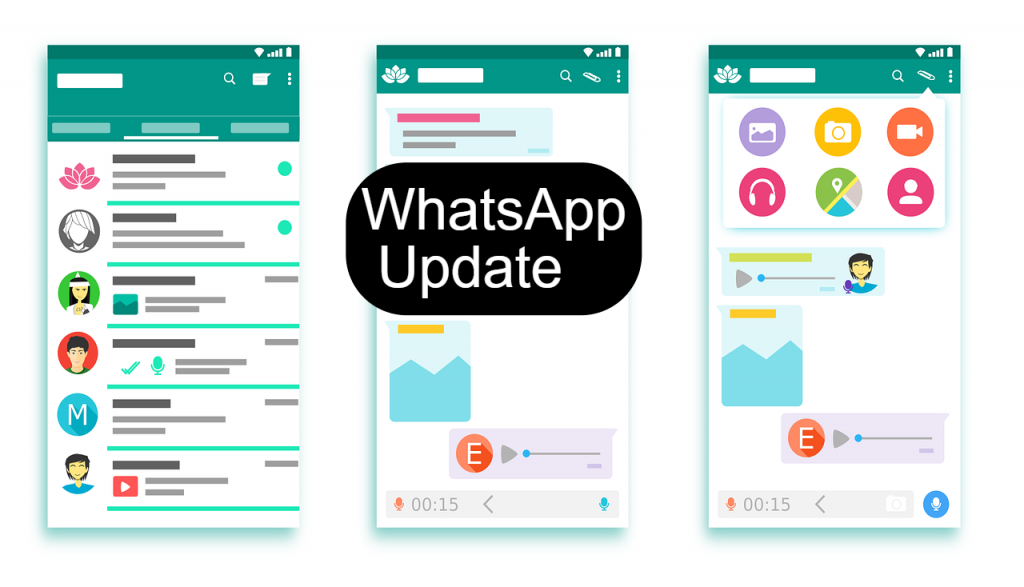 ✔ New look of Android chat lists
This is a UI change in the chat list being rolled out for beta users. The changes can be seen on the WhatsApp beta version for Android devices. For Google Play Store and WhatsApp Web users, it will be available later. WhatsApp which is owned by Facebook is doing away with the line separators in between chat cells on its chat list. Chat list is the first page on the app which shows you the latest chats with contacts and groups as well.
It should not be mistaken as an overall redesigning of the app; it is a small UI change. Right now, WhatsApp is rolling this update for beta users only and later on it will release it for WhatsApp Web and stable versions from Google Play Store as well.
✔ Change in color scheme of notification's elements
WhatsApp recently also changed the color scheme of certain elements of its notifications on Android. Due to this change, some UI elements in WhatsApp message notifications that appear in the notification shade used to appear green in the dark mode will now appear blue for WhatsApp beta users.
These changes will also be made for the light mode on WhatsApp as well. The WhatsApp logo, badge, 'Reply' and 'Mark as read' buttons will now appear blue in the new beta update. The changes in color scheme might possibly depend on the Android version on the user's devices.
WhatsApp also made a beta update in which the color of the profile picture will change.
✔ Audio-message playback speeds
This feature allows user to choose between multiple playback speeds while playing an audio file. This option will allow the user to listen longer messages easily and can skip the parts to get to the particular point. This feature is very helpful for the users as long audio messages are very time consuming. And very often they contain useless and unimportant parts so now users have the ability to play the message at whatever speed they like.
Along with that they can also skip some parts. This feature is available in both Android and iOS. Now, there are total three playback speeds (including the newly added two). These include 1X (the default-original playback speed), 1.5X and 2X which let you play the file at 50% or 100% faster speeds.   
Also read: Ways by which social media can help to improve SEO
New developments on updates
Below are mentioned some latest developments on future updates
✔ End-to-end encrypted backups
End-to-end encryption is something that every WhatsApp user must have seen on their apps and it has been in news recently because of the WhatsApp new privacy policy. WhatsApp has time and again stated that all the chats on WhatsApp are encrypted i.e. no one, including WhatsApp can view them. The chats are viewable only to the sender and the receiver.
This feature provides privacy to the users as they share texts, images and videos with their contacts. However, this end-to-end encryption was not applicable to the chat backups on both iOS and Android devices since they were connected to third-party software Google Drive and iCloud. Now, WhatsApp has updated that it will soon offer end-to-end encryption on chat backups in Android devices as it is testing this feature in Android devices.
✔ Flash Calls feature for Android
Flash Calls feature which is under development as of now will allow you to log into your account quickly. This will allow users to quickly get verified while logging into WhatsApp account via an automatic verification over a call. In this feature, WhatsApp will call you automatically when you try to login into your account and will automatically end the call. This platform will then verify the last phone number in your phone's log is equal to the number that gives you the 6-digit code. The phone number will be different each time and the call history will not be used for other purposes, as cleared by WhatsApp.
This update is not for iOS users as Apple does not offer any public API to read the call history. They also stated that this feature is optional and users can still verify themselves using the existing verification process.
Wrapping it up
WhatsApp has recently faced too much backlash for the new privacy policy which says that now WhatsApp will share user's data with its parent company and biggest social media platform Facebook. There have been much false and confusing information spreading about this policy. However, WhatsApp has cleared that this policy does not include sharing of chats with Facebook as it remain end-to-end encrypted. But still, people are very skeptical about it. Let's see how WhatsApp will deal with this controversy. Whatsoever, you must stay updated with each update of WhatsApp.
For more informative and interesting articles, just get in touch with us.