Are you looking for ways to multiply your profits of your conversion funnel? Then you should bear with me till the very end of this article.
First off, what is a conversion funnel? A conversion funnel is a visual representation of the stages in a customer's journey, from the second they land on your page till they make a purchase. In this article, I will be talking about how you can create a conversion funnel and how do you get the most from this tool?
Let's jump right in
How to Build Conversion Funnel that will Multiply your profits?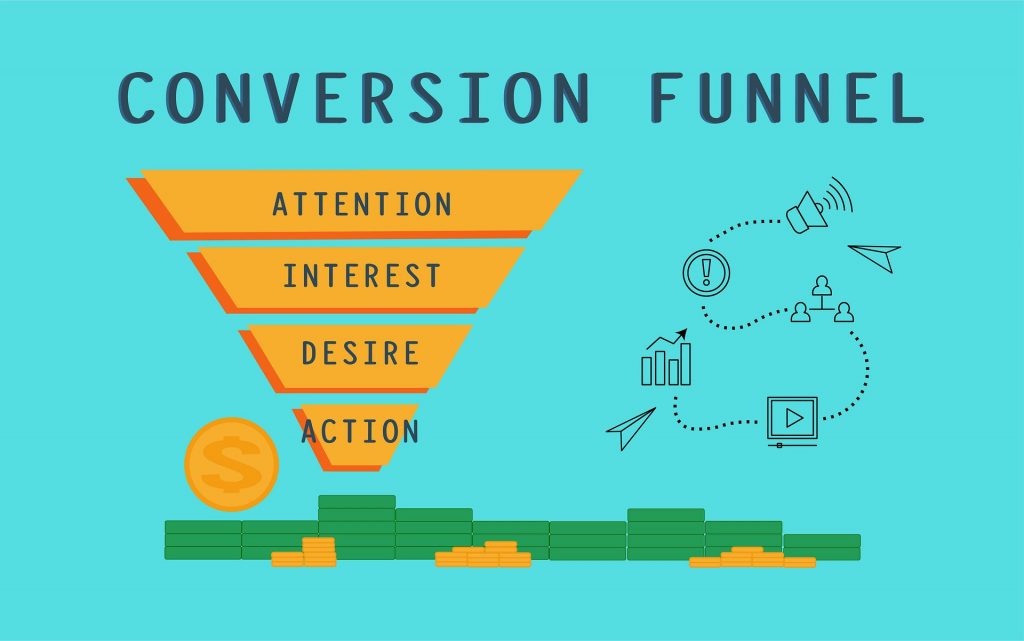 Here are some steps you must follow in order to build a conversion funnel. Let's take a look at them
✅ Determine your ideal customer journey
The goal of a conversion funnel is to build an effective customer's journey and enhance your conversions. Before enhancing your conversions, you must identify your initial and end goal. In another words, you must identify these three things:
What your regular customer journey looks like at the moment
What your end goal is, or what action you would like your prospect to take
How you can improve your current customer's journey in order to increase the chances of your leads becoming loyal customers.
One you have identified your end goal, you can map it out as a conversion funnel. Visualizing or mapping out your conversion funnel can help you stay on the track.
✅ Set individual goals for each stage of conversion funnel
Your conversion funnel is divided into three parts: top, middle, and bottom. You have to decide what goal you want to achieve with each of the stage. For instance, you may want to boost your site traffic from the top stage, boost your engagement rate with the middle stage, and enhance your conversions at the end.
After setting goals for your funnel, track your progress using various tools and check whether or not you are meeting those goals. You may use Google Analytics or email automation software to track the progress. You can't meet your targets unless you are clear what you want from each stage of the funnel.
✅ Plan content for each stage of conversion funnel
Each stage of the funnel needs its own marketing plan to keep prospects moving from one stage to the next one. Not sure how to plan effective content for your funnel audience? Digital Marketing Agency in Leeds will help you out.
Top
The top stage or the first stage is all about building brand and product awareness. You are trying to create some buzz around your brand and products. So that, you prospects will be interested in knowing more about your brand and its products.
At this initial stage, use only visually engaging content like videos, short blog posts, and social media posts to introduce your company to your audience and convey your brand story.
Middle
When the prospect goes down from top to middle stage of the funnel, it is time to earn their trust and show them why the need your product. A prospect may stay in this stage for just a while, so it is important to produce valuable, informative, and reliable content like case studies, videos, tutorials, and downloads.
Bottom
The bottom stage must be focused on giving your prospects a reason to take action in the form of sign up for newsletter, or take any other action you desire, like marketing strategies at the bottom stage could include free trials, emails, or CTAs.
✅ Implement your strategies and create content
Now, at this stage you are trying to build hype around your brand and product. You have to answer few questions in order to help build a content strategy for this stage like why should a customer choose your brand over others? How are your products going to help the customers? You need to do competitor research as well. See what you can learn from their website, landing pages, social media, and blogs. How are they retaining their customers?
Here are some ways you can generate awareness and create appropriate content for the top stage of the conversion funnel.
You can consider using PPC ads to increase traffic
You should optimize your content for SEO so that it can rank high in the SERPs, this will increase the chances of people finding you.
Utilize social media platforms like Facebook, Instagram, Twitter etc, to connect with your customers and boost engagement rate. Here is How to begin a Facebook Marketing Campaign?
You can reward people who recommend your products by setting up referrals.
You can also try influencer marketing, creating guides, hosting interviews, and so forth. Here are some Tips you must know to become a Twitter Influencer.
✅ Generate interest
Generating interest or design boils down to one key thing: creating compelling content. You must build some awareness around your brand, then you have to tell people why they need what you are selling, and then eventually to decide if they want the product. You have to create great content to nudge people at this stage of the funnel. Here are 10 Effective Content Marketing tactics you must know.
Create authoritative content for your audience.
Content should be high-quality, valuable, and able to engage your audience. The content must tell audience how the product will help them.
If you have contact details of your prospects, you can send them curated email content, such as gist of your top blog posts, customer testimonial, or hints and tips of how your product will benefit them.
✅ Encourage prospects to take action
Your goal at the bottom of the funnel is to convert the prospects by encouraging them to take the necessary action. Here are few ways you can optimize your strategy to make the prospects take action
Add CTA: you must never forget to add CTA in your content. At this stage, you are compelling your prospects to take the final action which is making a purchase. It is better to give your CTA a sense of urgency. Besides that, your CTA should be easily visible and easy to locate by the customers as well.
Create a downloadable PDF: one way to encourage prospects to take action is by putting valuable content in a PDF and then make it available for download. You must ensure that your PDF promises to answer the common questions your customers have, to encourage them to download it.
Include customer's testimonials: testimonials are a great way to increase your credibility and authenticity. It tells your prospects that your products have helped many customers previously. You could include case studies showing how the products helped that particular customer.
✅ Retain customers
It's great that you are able to find many new customers but the main challenge and most important part is to retain them. By retaining your customers you can reap the actual benefits. Not retaining your customers is going to cost you more. Here are some techniques to retain your new customers
By creating loyalty programs: this is the best part in customer retention strategy. People spend more money when they are a member of loyalty schemes. However, you need to be creative with building your loyalty programs as they are not new.
Product updates: updates are usually done to improve the user experience. By updating whatever you are offering to your customers sends a message that you care about their evolving and changing demands and expectations.  
Next-sell: next selling is a remarketing tactic where you follow up with a customer after a purchase and offer them something similar or additional with a good discount attached.
Hire Digital Marketing Agency in Manchester to launch a remarketing campaign for your business.
✅ Address funnel problems
If your funnel's performance is not meeting your expectation, there might be some common errors that you are making like using too many steps in the funnel, leaving out a powerful CTA, failing to follow up with a prospect or customer, not starting with a clear brand message, and so forth. You can take help of tools like Google Analytics or run A/B tests to find out why your funnel is not performing upto the mark. Besides that, you can send out surveys to find out your customer's experience with your website, and always take negative feedback and don't ignore that. This will give you a clear picture of what your prospects does or does not want.
Wrapping it up
Conversion funnel strategy is never stagnant. It is always evolving and so are your audience's needs and preferences. Hence, it is important to adapt your objectives and funnel strategy to match your audience's needs. Your focus should be on providing the best user experience to your customers. By doing that you will not only build a loyal customer base but you will also stand out from your peers.
Need any professional help regarding online marketing? You can hire Digital Marketing Agency in London.
For more informative and interesting articles, just get in touch with us.