If you are struggling with getting clicks and traffic despite putting out quality content, then you must take a look at your headlines again. Sometimes, it is possible that you might be creating top notch content for your readers, but still they don't read it because the headline is not catchy enough to grab their attention. There is a crystal clear connection between the value and interest of an article's headline and whether your audience is intrigued enough to click on it. Writing an eye-grabbing headline is no rocket science, you just need to keep certain things in mind while writing your headline. Many studies have compiled data to give some clues as to what makes a headline compelling. In this article, you will see some top notch tips that will help you create a catchy headline
Let's hop on
Tips to Create a Catchy Headline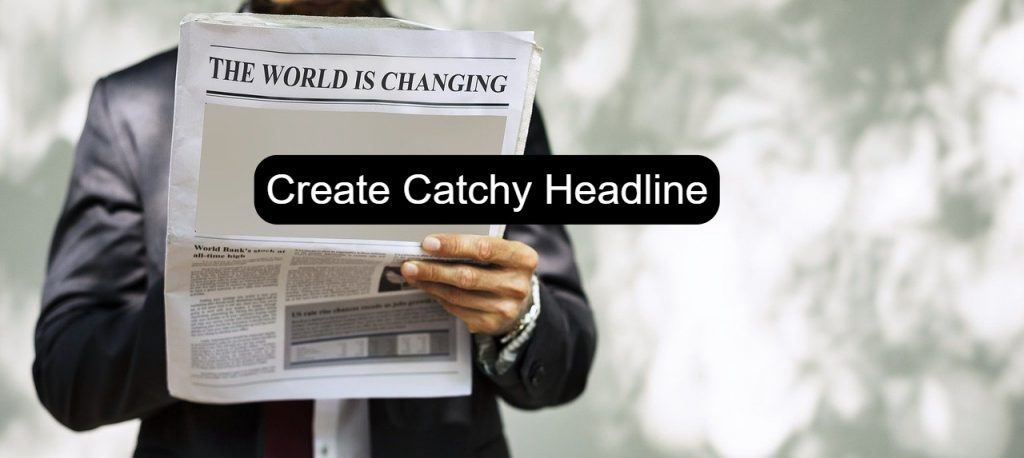 What is the first thing that captures the attention of the readers? It's the headline. It is the headline which plays a crucial role in making a great impression on a potential reader. Here are some tips to create a catchy headline that will earn you clicks and pull your readers to your content
✅ See what others are writing
Before writing a piece of content, you research the keywords you're planning to target. Analyze the SERPs for that keyword to see what your competitors are doing. You need to find out what's already out there so that you can create something that stands out. Unique articles with unique headlines will always grab the attention of the audience. Try to get the user's intent and what kind of content is out there.
✅ Create moving headlines
Moving, emotional headlines definitely capture more eyeballs than the neutral ones. You can evoke emotions in the heart of people by using some powerful words. Using these words enhances their first impression of your content. Some of the powerful words that you can use to make your headline moving are happiness, fear, love, anger, disgust, affirmation, hope among many others. That being said, you must ensure that you deliver what you have promised to your readers instead of making it a clickbait trap.
✅ Play with names and numbers
Adding names and number in your headline will be really helpful. It is better to have a renowned name in your headline. Names of powerful people or big brands will increase the chances of your content appear in the first page of search engine results page. But, one thing needs to be ensured that the name mentioned in your headline should be relevant to your brand niche. Numbers naturally catches the eye of the audience. Numbers grabs people's attention and make them pause for a moment.
✅ Convey benefits in a clear manner
Any person would wonder what he is getting out of a piece of content before clicking. You can tell what valuable information you are offering through the headline. High-quality and well-performing content provides one or more of these offerings which is entertainment, educative information, empowering, engagement, inspiration, answer a query or question and provide a solution. A reader is investing their time in reading your content so you must ensure that they finds it beneficial. So, convey the benefits through your headline in a crystal clear manner which they can easily understand.
✅ Create multiple headlines
Coming up with a bad first headline is completely normal. It is advisable to write multiple headlines; at least 10 headlines per content piece and then you can choose the best one. Try out variety of headlines targeting different formulas. There are various online headline analysis tools that you can use to keep track of SEO ratings for each option when you're making your decision.
✅ Test your headlines
No matter how creative and imaginative you think your headline is, many people will not click on it. But, those people aren't to blame. The problem lies with the headline. Avoid being biased with your headline by testing it. There are various tools that you can use to test your headlines. Test all the headlines that you have created. Overlook your opinions and feelings about the headlines and always rely on quantitative data.
The bottom line
Creating a successful headline will require a lot of trial and error. First off, you need to understand your specific niche, what your audience is clicking on? What kind of headlines they are getting attracted to the most among other things. Digging data and analysis is really crucial to understand in order to create a top notch headline for your content. Digital Marketing Agency Edinburgh will help you out with their excellent content marketing services.