An important part of SEO which helps search engine determines what the page is all about. Yes! I'm talking about Meta Description. Google set the record straight in 2009 by announcing that Meta Description does not influence page ranking in any way. Although, they do not directly affect search rankings you should not ignore them outright. Though they are not helping your site rank in the SERPs, they are crucial for optimization of web pages. Thus, it is important to create top notch Meta Descriptions for your page. Before learning how to create a winning Meta Description let's first see what is a Meta Description?
So, let's hop on
Meta Description at a glance
Meta Description is an HTML tag that allows you to write 156 characters or so. It is placed under the title of the page. It is the Meta Description that summarizes your content which shows up whenever someone searches for the keyword contained in the Meta Description on search engine results page. So, you must not overlook Meta Description. There is a reason Meta Description is one among the three other things displayed on Google whenever a user look up a query on the search engine. The other two are URL and Title of the page.

Write a crisp, concise and to-the-point Meta Description which may not help improve your search rankings but it definitely will help in
Now that you know what is Meta Description and how it can help your SEO efforts. Let's find out how to create top notch Meta Descriptions for your content
Tips to Create Top Notch Meta Description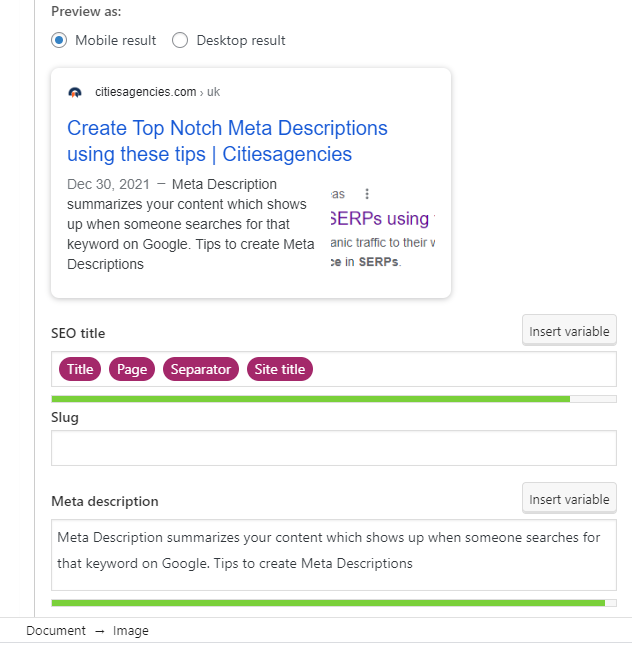 A good Meta Description will help your site get more clicks and traffic. Hence, they become really important for your site. Let's have a look at some tips you can use to create a top notch Meta Description
✅ Create short and crisp Meta Description
156-160 characters is all the space you have to work with. So, mindfully create Meta Description for your page. Since you don't have a large space to write a long Meta Description so make sure you are writing a short and crisp Meta Description which is good enough to give the search engine as well as the visitors an idea of what the page is about. If you do write a long Meta Description, Google will cut it short.
✅ Meta Description that offer value
Besides content, your Meta Description must also offer some value to the visitors. You should include words in your Meta Description that describes what value you are offering with your content. Your Meta Description must be able to give away information regarding what is in the content and whether it's worth reading. User should get a reason to click on your page.
✅ Add Call-to-Action in Description
If you want to make your Meta Description perfect, this(Call-to-Action) is the element you need to add in it. You have to compel users to click on your link. That can be done by adding a clear and compelling Call-to-Action. CTAs should be for the visitors and not for the search engine. Words like "learn more" "click here" "shop now" will compel visitors to click on your page. CTAs will enable users to understand what your page will offer and what they can expect from it.
✅ Write unique Meta Description
Copying same Meta Description to all the pages in your website is the most common mistake people make. This practice is perilous for your Google search rankings as Google attempts to index and show unique Meta Description. Thus, you should make sure that you are using different set of keywords in different pages. By writing different Meta Description for different pages you will allow individual page to rank for a particular keyword rather than making them compete with each other. Besides that, you can use catchy or eye-grabbing phrases to get user's attention. However, you must ensure that your content meets the expectations of the users who clicked on your page due to the Meta Description.
✅ Keywords in Meta Description
Keywords are an important aspect when it comes to SEO. They are essential in many parts of a website be it the content, SEO title or Alt tag. Same goes for Meta Description. You have to include keywords in the Meta Description. What this will do is help search engines understand your page and it will be a signal to the visitors that they will get what they are interested in. Important thing to note here is to never stuff keywords in the Meta Description. One or two keywords are good enough provided they must be relevant to the page.
Final thoughts
Meta Descriptions should not be left empty as that could result in the loss of potential customers. An important part of SEO, Meta Descriptions should be compelling, descriptive and different to each page. They must be short, concise and crisp which helps search engines and users better understand your page. So, do not forget to write top notch Meta Description for your page by following these above mentioned tips. If you are struggling to make your SEO strategy right, you can reach out to professional Digital Marketing Agency London.