You must be aware of the benefits of using Quora but did you know that you can optimize Quora for search engines to get even better results? Are you aware of various ways to rank your blog higher on search engine? In today's article, I will be telling you all about some steps you can use to optimize Quora blogs for search engine.
Let's jump right in
You must know that optimization is important for every website or blog out there as it helps those sites and blogs rank higher on the search engine. Like every website or blogging platform, you can very well optimize Quora for the search engines. If you are running a blog for your brand or business then you must optimize your Quora blog as well.
Why it is important to Optimize Quora Blog for search engine?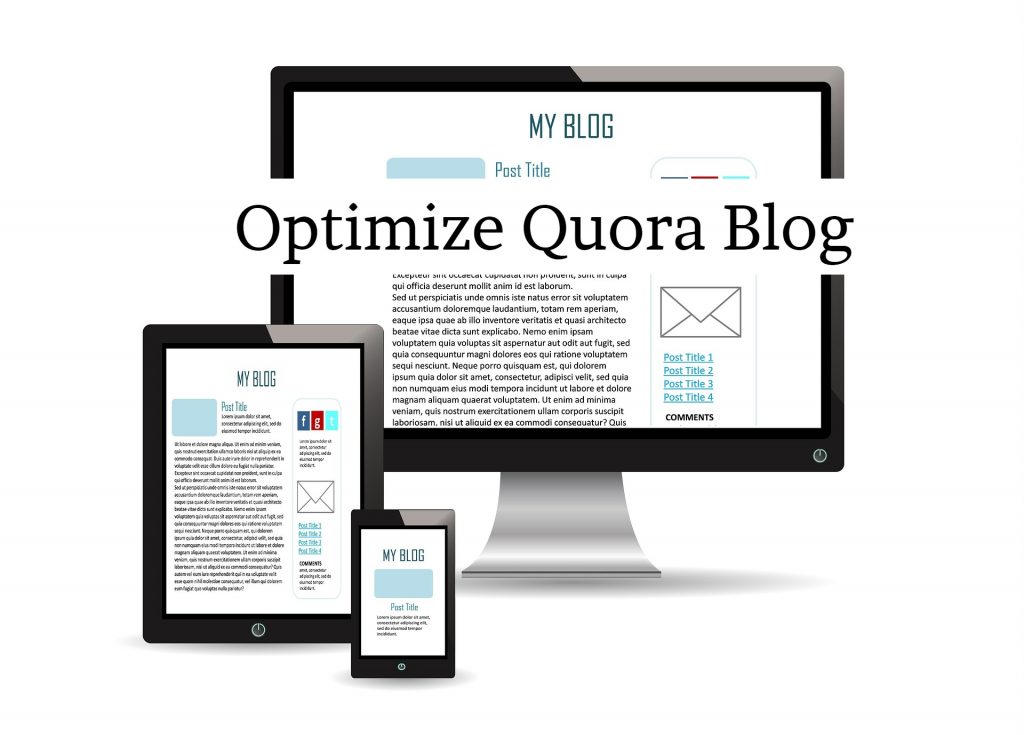 Who does not want people to get to their blog posts through search engines? Everybody does and hence, optimization is a must for every Quora blog. Optimization of Quora blogs should not be mistaken for keyword stuffing and linking to your blog posts from anchor text links in other comments. Optimization means writing and posting quality answers to questions of your target audience on Quora. The answer must be valuable and relevant to the audience so that they can relate to it. Here is How to Drive High-Quality Traffic to your Blog With Quora
Now let's see some simple steps to optimize your Quora blogs for search engine
Steps to Optimize Quora Blogs for Search Engine
It is very important for you to optimize your Quora blog to get top most rank on the search engine results page. Below are some steps to optimize Quora blogs.
The first step in the optimization is the title of the blog. You can use up to 65 characters to fill up that space. So you should be creative with the title. Make sure to add relevant and necessary information so that people can connect to you effortlessly.
Quora does not use Meta description tag, and your description of the blog is shown in the homepage. Make sure that the

description of your blog is attractive

enough to catch the attention of maximum audience. Struggling with website SEO? Digital Marketing Agency in Leeds will help you out.
This was the optimization on the website level. You should

focus on permalink

in the single post level optimization.
This means to add keyword only in the title and your permalink would be adjusted on its own.
Few more steps to optimize Quora blogs
Take full advantage of

outbound links

. You must equally focus on on-page as well as off-page optimization of the blog. This is a great method to rank your site in the SERPs. Here are 12 Off-page SEO tactics to enhance the website traffic
The density of keyword must be maintained and add LSI keywords in it.
You have to

index it carefully

so that it can come in the search results. After the indexing is done, you can share it on all social media platforms you are active on to draw more traffic and attract more audience.
At the end, the best optimization is done at the content level. Major focus should be on content as it is the most important aspect of SEO. Producing

high-quality content

is very important. Only when you are posting valuable and informative answers on Quora, it will be read and shared by more and more people. This will send quality traffic to your site. Reach out to Digital Marketing Agency in London for great content marketing services.
Let's take a look at some benefits of optimizing Quora blogs for search engine
Benefits of Optimizing Quora blogs for search engine
There are plethora of benefits that Quora provides. You must know the right tactics and how to implement them. Once you optimize your Quora blog in the right manner, you can get the following benefits
Your ranking will increase in the search engine results page
More traffic will go to your website
If people find your blog helpful and relatable, they are more likely to share it on various online platforms. This will further draw more traffic to your blog.
When your blog start to get higher ranking and more traffic, the results will reflect in terms of more profits and higher return on investment (ROI).
Wrapping it up
Optimization is an essential thing for every website and blog. Hence, it is important to make sure that your site is well-optimized. You can get immense benefits if you optimize your Quora blogs well for search engine. Your blog will get more traffic and eventually higher ranking in the SERPs. Therefore, if you haven't optimized your Quora blog for search engine, this is the time to do it.
For any professional digital marketing services, consider hiring Digital Marketing Agency in Edinburgh.