Making your audience feel excluded is the worst thing you can do to them. Yet many marketers and content writers make this mistake. Many people don't even realize that they are using exclusive words and phrases. It is the responsibility of every marketer and writer to produce inclusive content for their audience. But, what is inclusive content though? And, how to create inclusive content? This article will help you find the answer to all these questions
Let's jump right in
First off, let's see an introduction of inclusive content
What is inclusive content?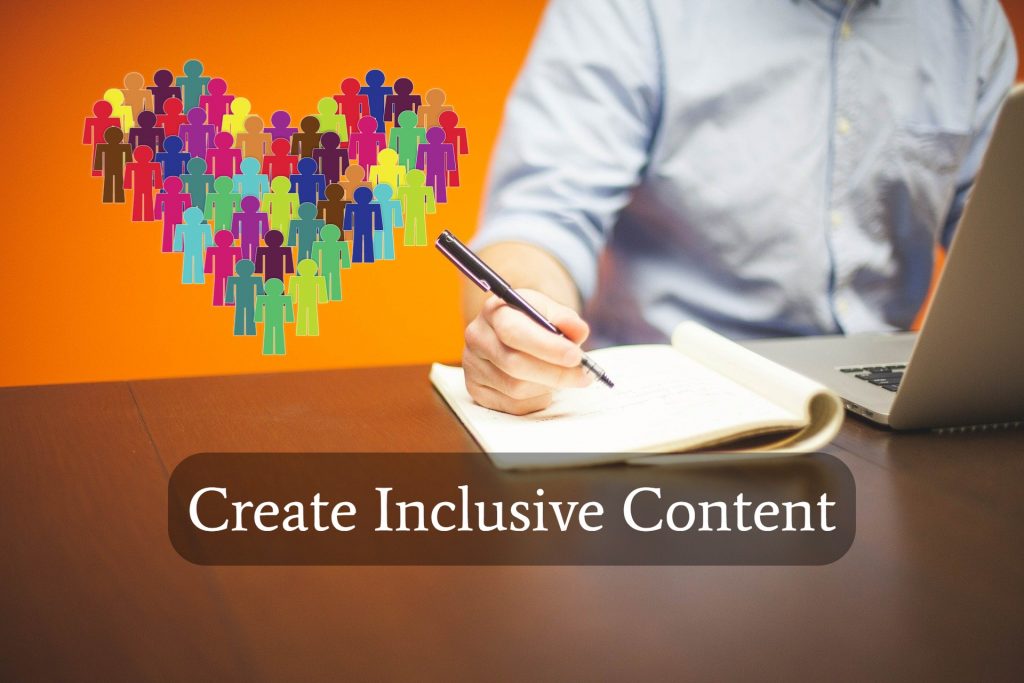 Inclusive content is any form of content such as blog posts, videos, an infographic etc. which caters and speaks to a wide audience without excluding anyone. When it comes to producing blog posts, the content should be such which do not hurt the sentiments of anyone and which is helpful for as many different people as possible. Inclusive content does not include your personal stance on a social or political topic.
What is the whole point of creating inclusive content?
Writing inclusive content will cover as many people as possible; it comes with a lot of benefits. First off, it helps you expand your business. You can enhance your target market by opening the door to previously marginalized communities. It spreads awareness about your brand and raises its profile with maximum people. Inclusive brands are preferred by millennials too so it will help you increase your sales.
How to create inclusive content?
Regardless of whether you are writing inclusive content or not, you can always start and grow your content creation. Below is a rundown of tips that you can use to create inclusive content
? Find out your audience
'Who is your audience' should be the first question you ask yourself before starting to write inclusive content. Marketing campaign need you to narrow down to your target audience but when it comes to content it just doesn't cut it. Every potential customer fits a different buyer persona. So, if the language and the media that you are using is not appealing to a wide range of demographic you will lose many of your potential customers. Thus, you should use inclusive language and media which will cover every section of the audience.
Creating content for a wider audience will come across as thoughtful and meaningful. It will appeal to a large audience base. So, by focusing your content marketing efforts more on diversity and inclusivity you can identify and fix the blind spots which will build and improve your relations with variety of audience.
? Create accessible content
Accessibility of the content is as much important as the inclusivity of the content. In order to make your content accessible, you need to make your website accessible. You have to ensure every page of your site is well accessible to the audience, the blog especially. They must be able to interact with your site in general and blog in particular. You must also ensure that the images have relevant alt text. Viewers rely on alt text to describe what's in the pictures and other visual content. Another thing to do is add subtitles or captions in the videos. Expert tips to Create Content that Earn Links
? Make your language more inclusive
Words are very powerful, they can make something beautiful and they can destroy something as well. So, it is important to choose your words wisely. So, when you create inclusive content for your audience you must be careful with the language you use. In order to create an inclusive content, your language must be inclusive as well. You have to use language which is not gender-biased, race-biased, and health-biased and so on and so forth.
? Get audience feedback
It is not easy to create 100%, all inclusive content the very first time. So, you can directly ask your audience to give feedback. Have an open and honest conversation with your audience. This is because every person has different views so you must get as much viewpoints as possible. This will help you create more and more inclusive content which will cater to every person having a different viewpoint.
? Images must be inclusive too
Not only your content needs to be inclusive but, the images in your content needs to be inclusive as well. Most of the stock images platforms just have images of a particular section of society or race or color. So, your images must go beyond the nationality, color, race and culture of people. Use images that make people feel included, empowered and not overlooked. You can simply click pictures on your own and use them in your content. Repurpose Content Using these Powerful tips
? Accessible writing style
Not only your language needs to be inclusive but, your writing style; format and structure must be equally inclusive and accessible. Not every person is perfect in reading and understanding Oxford level English. Most people can't read or understand complex English words. So, you need to first of all
Make your words as well as sentences short and simple.
Use a lot of sub-headings, break down lists using bullet points and write short paragraphs.
Besides that, avoid using slangs, complex idioms, abbreviations which can be confusing for a lot of readers.
Make your writing clear and concise by writing in the active advice.
This will allow your audience to easily read and understand your content which will make it more inclusive. Audience will put their faith in you that you are giving them content which they can relate to. This will help you get new as well as retain potential customers.
The bottom line
As a writer you need to adapt and learn certain things in order to grow. Creating inclusive content is not a single day process, it is a continuous learning and creating process. This learning will make you grow as a writer. People will find your content useful and they will feel included which is the goal here. Inclusive content will help you get a wide range of audience increasing your brand awareness as well as profits. If you are struggling with your content marketing strategy, just reach out to Digital Marketing Company in Sydney, they will help you at every step.