Marketing your products and services to other business organizations is way different than marketing it to individual shoppers. Hence, B2B marketing greatly differs from B2C marketing. Are you a B2B business looking for ways to do marketing on digital platforms? If yes, then read this blog and learn about ways to do effective B2B digital marketing.
Digital marketing is crucial for every online business be it B2C or B2B. However, it is important to understand that the way these two types of businesses function is quite different. Thus, the way they approach marketing has to be different. And hence, a whole different branch of marketing—B2B marketing—exists.
B2B marketing implies a marketing strategy that is directed towards different businesses or organizations rather than individual customers. For example, a company providing software development services to other businesses will indulge in B2B marketing.
From the length of sales cycle to awareness level of the customer, and so on, B2B marketing is different from B2C marketing in many ways. That being said, let's talk about…
Ways to do effective B2B digital marketing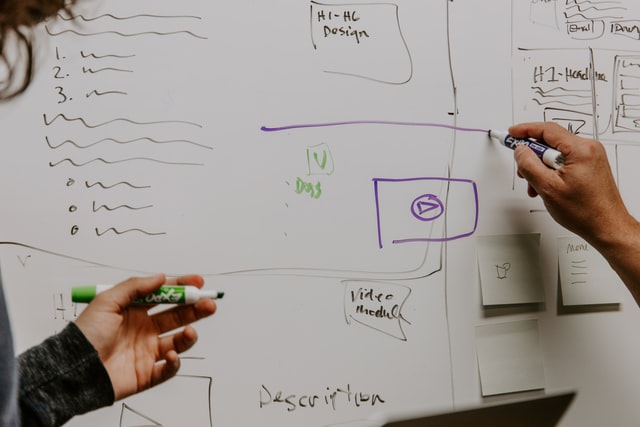 #Create a website
Okay, so if you don't already have a website, this is the first step. Website development is crucial for B2B businesses to market their business on the digital platforms. A B2C business can still function only through its social media handles. However, that is not an option of for B2B businesses. So, make sure to have an informative and engaging website in place.
#Optimize for search engine
Every business with an online presence need to do search engine optimization in order to be discoverable on the internet. Optimizing for search engine allows you to be found by your target market on the internet. There are a various things involved in SEO from keyword research to image optimization, RWD, fast loading website, link building, social sharing, and so on. Here are some tips to improve your SEO.
#PPC advertisement
Digital marketing is a mix of various organic methods and paid advertisements. Hence, paid ads are as important. Therefore, you need to have PPC campaigns in place. PPC (Pay-Per-Click) ads are the types of ads where the advertiser pays the publisher for each time the ad published on their platform is clicked on. Hence, it is a cost-effective way of marketing. PPC ads can very useful in expanding your audience on the internet and improving your brand awareness. Make sure you incorporate your buyer persona data and create content they can relate to. You can run PPC campaigns on search engines and various other advertising platforms.
#Content marketing
B2B content marketing is different from B2C content marketing in many ways. For one, B2B sales cycles take quite longer than that of B2C and content marketing plays a big role in creating a buyer journey. Moreover, content marketing is also crucial for effective SEO. As a B2B content marketer, your focus should be on creating valuable content for your target market that educates them. This is one of the biggest ways B2B customers differ from B2C customers—B2B customers look for expertise and want to be educated, unlike B2C customers who are mainly focused on satisfying their personal needs. So, make sure that you create high quality and informative content that reflects your expertise. It is also important to align it with your customer journey. And of course, don't forget your keywords.
#Email marketing
Email marketing is one of the oldest and most effective ways of reach both individual and business customers. It is one of the most effective ways of capturing prospects, nurturing them into qualified leads, and then finally turning them into customers. You may understand email marketing as an extension of content marketing, a vehicle for sharing brand's content. However B2B email marketing, again, works differently from that of B2C. As we have already talked about this, B2C consumers want to know how your business can satisfy their personal needs and wants, and they are generally driven by emotions. On the other hand, B2B customers are driven by logic and want to know how your brand can help their business grow. And this is how the content shared through email marketing by the two types of businesses differs.
Apart that, just make sure that you
Segment your email address list properly,
Write enticing subject lines,
Use your CTA elements properly,
Create mobile friendly emails,
…and so on.
#Social media marketing
If you think social media marketing is crucial for B2C businesses only, you are wrong. Social media is a powerful platform that gives a business an online personality, helps create brand awareness, and humanizes the brand. Though yes, it might not be the place where you make many conversions but it becomes a starting point of many customer journeys—of course, if you do social media marketing right. Just like content marketing and email marketing, social media is an effective channel to share your content and reflect your brand expertise.
Final Word
B2B digital marketing greatly differs from that of B2C. And hence, there is a whole different brand for marketing for B2B businesses. With the help of the points lifted above, you'd be able to market your B2B business effectively on digital platforms. As you can see, the difference in marketing content is one of the key ways in which B2B and B2C businesses approach marketing. So, make sure you keep that in mind can market content accordingly at all levels.
For more digital marketing tips, stay tuned with us!