Affiliate marketing is a popular ways for businesses to advertise their brand and products. Hence, many people try their hand in this business. However, it isn't as simple as it seems. You should not jump into affiliate marketing before having understood it properly. For one, there are common mistakes beginners make and important things that beginners commonly fail to understand. Therefore, if you want to become and affiliate, then you must be aware with these important dos and don'ts of affiliate marketing that we are going to list in this article.
Starting out as an affiliate is very easy. Just develop an affiliate marketing website and you'd be good to go… However, that is not the case. Indeed, beginning with affiliate marketing is practically easy. But before that, there are certain things to be aware of just like you should be before starting with any type of digital marketing.
People generally fail in affiliate marketing for not keeping in mind a number of important things. And that is just what we are going to list below.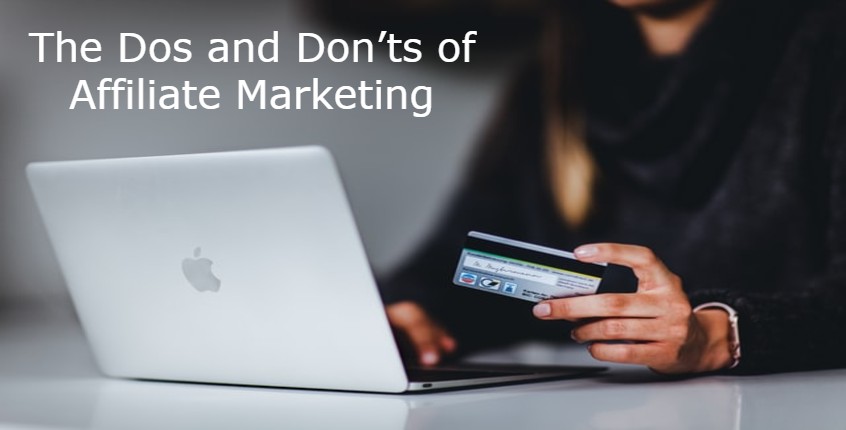 The Dos and Don'ts of Affiliate Marketing
Do…
#Conduct a proper research
Before trying to set your foot into affiliate marketing, it is important that you research the well. So, before you sell yourself as an affiliate or publisher, make sure to research the market thoroughly—what exactly is affiliate marketing and how it works, what type of businesses use affiliate marketing, what are the roles of an affiliate (or what is expected of him/her), affiliate marketing trends, history, and so on.
#Specify your niche
Having a specified niche is important. If you promote products and services of different niches, your audience will have a hard time trusting you. Moreover, in such a case, reputed brand will not even work with you. Therefore, make sure to define a particular niche and give your all to it.
#Post truthful information
Your audience expects honest and truthful information from you. This one biggest difference between an affiliate and a general ad publisher. People expect affiliate websites to post honest reviews of a product. Therefore, make sure you are truthful with the information you post on your website.
#Promote products you genuinely like
Since we have emphasized on the importance of posting genuine information, the only way you can do that best is by promoting on only those products you genuinely like. If you promote products that you don't really like or know that aren't as good, you will not be able to do their marketing well. And in most cases, sooner or later, your audience will be able to see through this which will be further bad for your as an affiliate.
#Be wise when choosing a program
It is important to be very thoughtful and wise when choosing to promote a brand or products as an affiliate. You need to make sure that the company is indeed good and the product they want you to promote is also good enough. Moreover, it is also important to make sure that the products you are going to promote under the said program will actually be relevant and useful for your audience.
Don't…
#Be hasty
While it is tempting to just start out with creating an affiliate website and start taking projects from straight up, it is important that you resist such temptation and be patient. Defining a niche, researching thoroughly and mastering it, familiarizing yourself with the ins and outs of affiliate marketing, defining and understanding your target audience—there is just so much to do before you actually begin with affiliate marketing to make sure you do your best in it.
#Promote just anything
Do not promote just any product because the commission is good. While this can be tempting, it is important to understand it is a bad practice which an eventually ruin your profession as an affiliate. Thus, make sure that the product is indeed concerned with your niche, will be relevant for your audience to learn about, and is indeed good for what it's worth.
#Work with only famous brands
If you keep waiting for opportunity to work with famous brands and turn down offers from the smaller ones, you can't really expect success in this method of digital marketing. In most cases, you have to begin with small brands. And anyway, the idea of affiliate marketing is to promote goods and services that are actually good and will provide value to your audience. In that case, brand doesn't matter as much.
#Focus just on sales
Don't just use your website for promotion. Think as a reader. Why would you go to a website that just keeps promoting different products and brands but doesn't provide any special value in the form of content. Providing useful information to your audience and their well-being should be your priority. Only this way you will be able to ensure that your audience is genuinely interested in mwhat you say and take your recommendations more seriously.
#Fictitious reviews
Simply put, don't lie or exaggerate about a product. While it can be tempting to post good review about a poor product for high commission, it is bad for not only your audience but you too. Fooled, people may buy suggested items once or twice. But as they realize you are promoting bad products to them, they will stop trusting you. And there, you lose your audience and your business as an affiliate marketing website.
Final Word
Affiliate marketing is popular means of online marketing used by many business organisations. If you are in this profession or planning to be so, then you must be familiar with the dos and don'ts of affiliate marketing as mentioned above. This way, you will be able to ensure a good, healthy, and fruitful business in affiliate marketing.
For more articles like this, check out our blog now.