The importance of Meta Description is well-known in the SEO world. Every content needs keyword-rich, concise and to-the-point Meta Description. But, how to create an effective Meta Description? If you are struggling with writing a winning Meta Description, don't fret! This post is your ultimate guide to Meta Description. Just go through this guide and by the end of it you will get everything you need to know about Meta Description
Let's hop on
What is Meta Description?
Let's first of all see what a Meta Description is.
In the words of Yoast, Meta Description is "The meta description is a snippet of up to about 155 characters – a tag in HTML – which summarizes a page's content. Search engines show it in search results mostly when the searched-for phrase is within the description. So optimizing it is crucial for on-page SEO."
So, Meta Description is basically an HTML tag that you can set for a post or page of your website. It will tell the search engines as well as the users what your website or content is all about.
It is shown in the Google's search results as displayed below

Why Meta Description is important?
Although Meta Description does not play any direct role in the ranking of your website however, it does affect the CTR (Click-through-rate). So, by creating a great Meta Description you can improve your click through rate. When you get a good click-through-rate, Google will consider your results as a good result. This will make Google move your website up in the SERPs. Hence, creating an optimized Meta Description is utmost important.
Features of a great Meta Description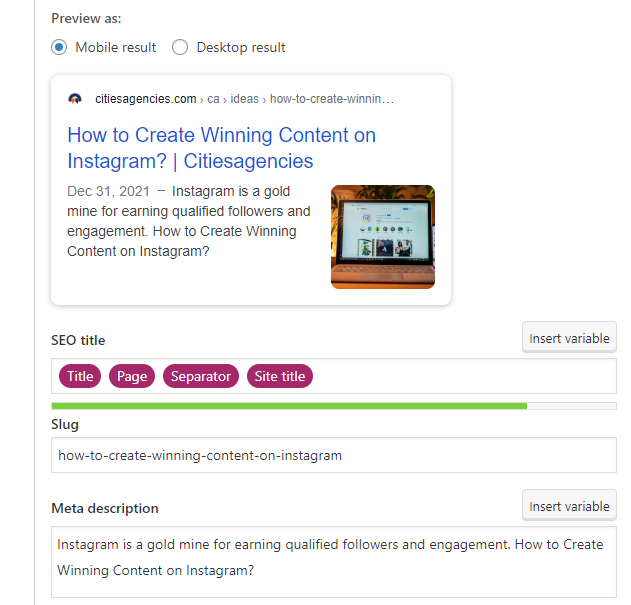 Curious to know how does a great Meta Description looks like. Here are some features that you will always find in a great Meta Description.
✅ Up to 155 characters
There is no right length of Meta Description. You should write it depending on the message you want to convey to the users. The thumb rule however, is to keep it short and concise usually up to 155 characters. Hence, you must keep your Meta Description short and to-the-point.
✅ Add call-to-action
Adding a call-to-action is really important. It can be learn more, try for free, Get it now and so on and so forth.
✅ Use keyword
Having your focus keyword in the Meta Description will prompt Google to use it and highlight in the search results.
✅ Must match with content
Writing a Meta which is exact opposite of what the content contains may result in penalization. So, it becomes very important to write a Meta which matches with your content.
Tips to write a powerful Meta Description
Here are some tips you can use to write a powerful Meta Description
✍️ Write a relevant description
Meta Description gives user the idea of what the page is all about. It gives you an overview of the content of the page. The Meta should be totally relevant to the content. Luring people to click on the link that contains content which is no way near to what they would expect by reading the Meta is the worst thing you could do. Don't mislead the users by building expectations when all you are giving them in reality is far from it.
✍️ Give them a reason to read
Your Meta Description should give the audience a reason to click on your page. If it is a blog post, you can use phrases like Ultimate Guide to…, Learn the basics about.., Find out how… and more. This will make them curious about your content because they will have an idea about what you are offering to them. Everyone likes informative content and when you give what you promise in the Meta Description, your audience will come back to you. Give your audience a reason to click on your page through Meta Description.
✍️ Make it to-the-point
No one likes content which beats around the bush. Thus, you must not do such practice with Meta Description as well. One of the best ways to create a great Meta Description is by making it to-the-point or specific. Keeping your Meta Descriptions specific and to-the-point makes it concrete and meaningful. Instead of using empty words, write the benefits that your content provides to the audience.
✍️ Enhance your credibility
You can use some phrases in your Meta Description to enhance the credibility of your company such as Since *year*…, Approved by *name of the authority*.., *number of* clients served and so forth. Doing so will enhance your credibility. Credibility is a major factor when a person decides to shop with a brand. If the brand is credible, the chances of conversion are more.
Read also: Why your small Business should invest in PPC advertising?
✍️ Avoid over-stuffing keywords
Although adding keywords to your Meta Description is crucial, yet over-stuffing them is not a good idea. The number of keywords in the Meta Description should be optimum. Adding too many keywords in the Meta will make it look spammy and overly-promotional.
Wrapping it up
There you have it: Ultimate guide to Meta Description. Writing a great Meta Description is really important. Never use the same Meta Description for multiple pages. You can always re-write them. Having a concise, specific and unique Meta Description is really important. Give what you promise, if you are giving an amazing Meta Description for a particular content, make your content amazing as well. If you are struggling with creating top notch Meta Description and content, you can ask for professional help from Digital Marketing Company in Toronto.