Artificial intelligence has increasingly been spreading its branches into different industries. It'd be no overstatement to say that there is no sector that hasn't been affected by AI even in the slightest. AI is the future. And it is especially so in the case of business industry. Businesses are increasingly sorting to AI for a number of operations—be it production, staff management, or digital marketing. That being said, let's talk about how you can use artificial intelligence in digital marketing and improve it.
The future of AI is very bright in the business industry—or rather say AI is the future of business industry. With the right AI technology, one can not only execute tasks with efficiency but also save costs, time, and other resources. And hence, more and more businesses are integrating their different departments with AI—and digital marketing is no different.
So, how do they do that? How AI integration has helped many businesses take their marketing programs to a different level? What are the ways your business can use this technology to improve its marketing. Find the answers below.
Best ways to use AI in digital marketing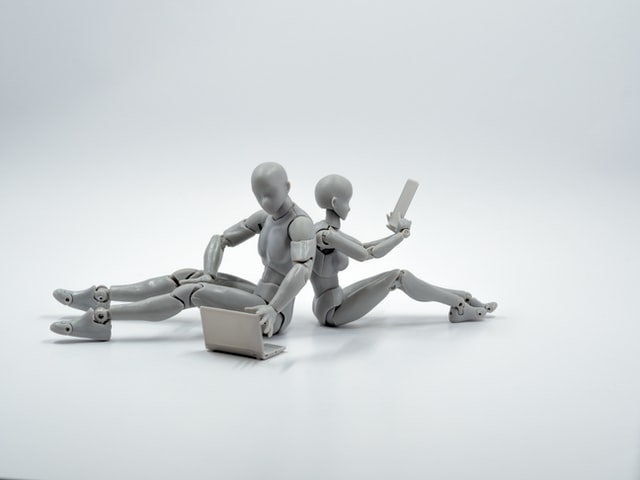 #AI powered chatbots
The use of chatbots is increasing in digital marketing now-a-days. Any business website you visit these days, you are sure to find a chatbot greeting you on the best of them. Equipping their website with such bots has turned out really beneficial for such businesses.
There are a number of benefits that chatbots can provide—improved efficiency, cost and time saving, better customer services, and so on.
So, think what it can be capable of doing when you power it with AI? Well, many businesses have done this. Seeing how gainful it has turned out for them and following their examples, more and more businesses are now walking into that direction.
With AI powered chatbots, you can improve your customers' experience like nothing else while also saving huge costs, time, and other resources—not to mention all this with a high rate of efficiency.
#Give customers a personalized experience
In the time when there is a cutthroat competition in the market and consumer has an innumerable amount of brand choices for a single product, personalization is everything. In order to do that, you need to have certain data of your customers that can help you understand their needs, wants, likes, dislikes, preferences, other important characteristics and behaviors, and so on. This helps you ensure that you market only such products to them which they find highly relevant and useful for themselves.
And with AI integrated software tools, you can do just that not only effectively but also efficiently. These tools collect, organize, and analyze data of millions of customers at once and then go on to provide unique experience to each customer based on that. And this is how AI helps businesses give customers and personalized experience.
#Do voice search optimization with AI
Search engine optimization is very crucial for a business in the present day scenario in order to find their target market on the internet. But if you are stuck with only traditional ways of SEO, in no time, your business would be left behind.
It is important to realize as an online business that voice search is increasing like anything. For it is insanely easy and convenient to search the internet with voice command, about 1 of 5 online searches are voice search. Therefore, it is crucial to optimize for it.
And with the help of right AI technology, you can do just that with great efficiency. There are tools like Google's RankBrain which is based in machine learning and can help you optimize your business for voice search. So, you should make such tools a part of your SEO.
#Optimize your email marketing campaigns with AI
Marketing through emails is an important marketing tactic that has existed since the beginning of online marketing. And it still continues to be highly effective.
But you can take your email marketing campaign to another level and optimize it like nothing else with the help of AI integration. So, how do you do that? Well, now there are many AI-powered software solutions out there that can help you efficiently manage different tasks of email marketing with email list creation, segmentation, automated emails throughout different steps of customer journey, creating personalized emails, sending out thousands of emails at once, and so on.
Therefore, make sure to use such AI powered software solutions for your email marketing campaigns.
#Create smart content with AI
Content is pivotal in SEO and digital marketing. Therefore, creation of quality content is an important concern for marketers. However, coming up with unique and relevant content ideas, and creating quality content regularly can get really challenging.
But with the right AI tool, you can do just that with much ease. For example, content marketing tools like BuzzSumo, Concured, and so on can be great aid in content research and creation.
With such tools, you can save time, effort, money, and other resources along with enjoying great content marketing results.
Key Takeaway
Artificial Intelligence is the fastest growing and the most innovative technology which, it'd be no overstatement to say, is the future of business industry just like most sectors. And many businesses have made it a crucial part of their marketing models. As you'd gather with points given above, AI helps businesses achieve efficiency like nothing else. Therefore, if you want to lead in your industry, make sure to optimize your digital marketing with AI.
For more interesting articles like this, stick around.