Are you aware of the most important factor that converts more website visitors? It is credibility. Credibility is the only way to sell more products or generate more leads or increase traffic. It tells the audience that you are safe and trustworthy. It is said your website is a digital store for your business. The crucial part of an effective value proposition is credibility. Credibility is the metric of trust worthiness of your website. There are many factors that influence credibility of your website and they depend on the context of the audience and your execution. By building credibility of your site you can attract more visitors. But what are some factors that influence your website's credibility? In today's article, I will be talking about 14 factors that influence your website's credibility.
Let's dig right in
Here I have compiled 14 factors that influence your website's credibility and how you can use them.
14 Factors that Influence your Website's Credibility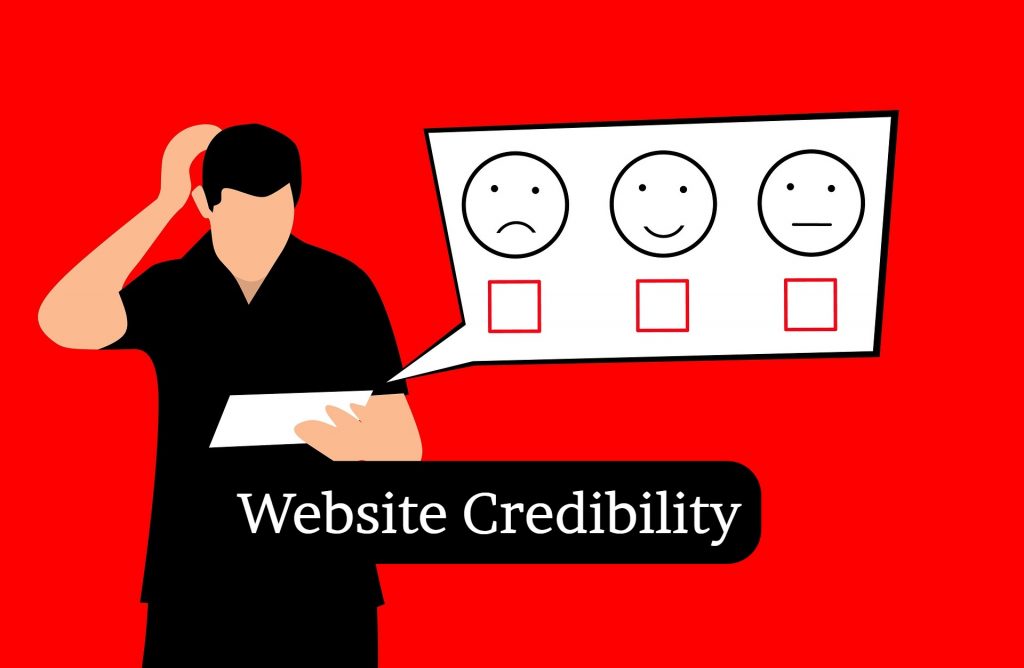 1. Helpful customer service
One way to improve site's credibility is by providing great services which eventually gives website visitors a positive user's experience. Friendly and knowledgeable support staff shows website visitors that your company is experienced and efficient. Adding a live chat option will give better services to your users increasing website's credibility.
2. Useful expertise
Your website visitors are always looking for expert-level content that solves their problems, push them towards their goals, or simply entertains them. They need expert content that is informative, fresh, surprising, and detailed. Here are Key Content Marketing Benefits for a Business
3. Consistency
If you are consistent with your content and its quality, the trust that your visitor has in you will grow. By being consistent, you will build good reputation with your customers.
4. No unnecessary requirements
If you force your visitors to register before they can post, comment, initiate a live chat, or make a purchase, you will lose your visitor's trust. Don't ask for their phone number when all you require is name and email address.
5. Add helpful FAQs
Whenever a customer is browsing your website, they will definitely get some queries or questions in their mind. You should add FAQ to your website. It will be helpful in giving them straight answers to their questions. It is always better to be helpful, upfront, and honest with each and every one of your customers.
6. Updated blog
If your content marketing strategy is 'set and forget' then it will hurt your website badly. Audience will always go to someone who is giving them quality content consistently. Putting out consistent content shows visitors your website is active and maintained. This makes them check your website for fresh content frequently.
7. Minimal advertising
Let's face it, nobody likes ads. So, if your site is full of ads or if you throw ad at your visitors screen on every page, it will make them hit the exit button. These pushy and annoying interruptions hurt the user's experience in a negative way. Hence, it is better to minimize the advertising on your website, so that it does not hurt your website visitor's experience. Not sure how to plan an effective advertising strategy? Digital Marketing Company in Chicago has got you covered.
8. Customer reviews
Customer reviews are one of the best ways to increase the credibility of your website as well as your company. How? When someone shares their feedback, it gives other people a sense of trustworthiness and realness. When the reviews are positive, they can boost your credibility. That does not mean negative reviews do not have any value. So don't let negative reviews get you down.
9. Case studies
Case studies are typically created in collaboration between the business and customers. Customers share their problems, expectations, experiences and the solutions or results that followed. Case studies may look like one-sided, but they are very helpful in boosting credibility.
10. Connection to influencers
This can be as complex as a large professional network and connections to large organizations, or as basic as associating with other well-known local or minor influencers. Need professional help regarding influencer marketing? Digital Marketing Company in New York will help you out.
11. Awards
An award is always helpful in raising your company's profile and gives you a nice prestige boost. The magnitude of boost depends on the level of award. If the award is from a higher authority, the boost will be higher.
12. Advertising
Advertising can really give your website's credibility a boost if you use it the right way. It can be done via platforms like Google Ads, Facebook Ads, or YouTube Ads. This will give your website better presumed credibility in the form of branding and familiarity. You are definitely more credible if people have heard of you before.
13. Professional design
A website's design plays a huge role in website's overall credibility. If your website is professionally designed then it will appear more credible. Whereas, if your website is not so professional looking, it will not give your visitors a sense of credibility about you. Here are Web Development Mistakes you need to get rid of now!
14. Website navigation
This is another important factor that influences your website's credibility. When your website is easy to navigate it improves the user's experience and eventually, credibility of your website. People expect your navigation to be organized and to use appropriate imagery and colors.
Wrapping it up
These credibility factors should be important to you because they are important to your target visitors. You don't have to focus on every single factor because different industry may prefer specific factors over others. Hence, you need to focus on the factor that is relevant to your niche. Just test the factors to find the best solution for your website.
For any professional help regarding digital marketing, hire Digital Marketing Company in Dallas.