Change is the only constant and in the social media world update is the only constant. The social media platforms are getting updates every now and then. In December only, many social media companies have brought changes in their platforms. Meta, YouTube, Instagram and many other apps have undergone upgrading to add some new features or upgrade the current features. So, let's have a look at some latest social media updates happening in the last month of this year
Let's start
Latest Social Media Updates in December 2021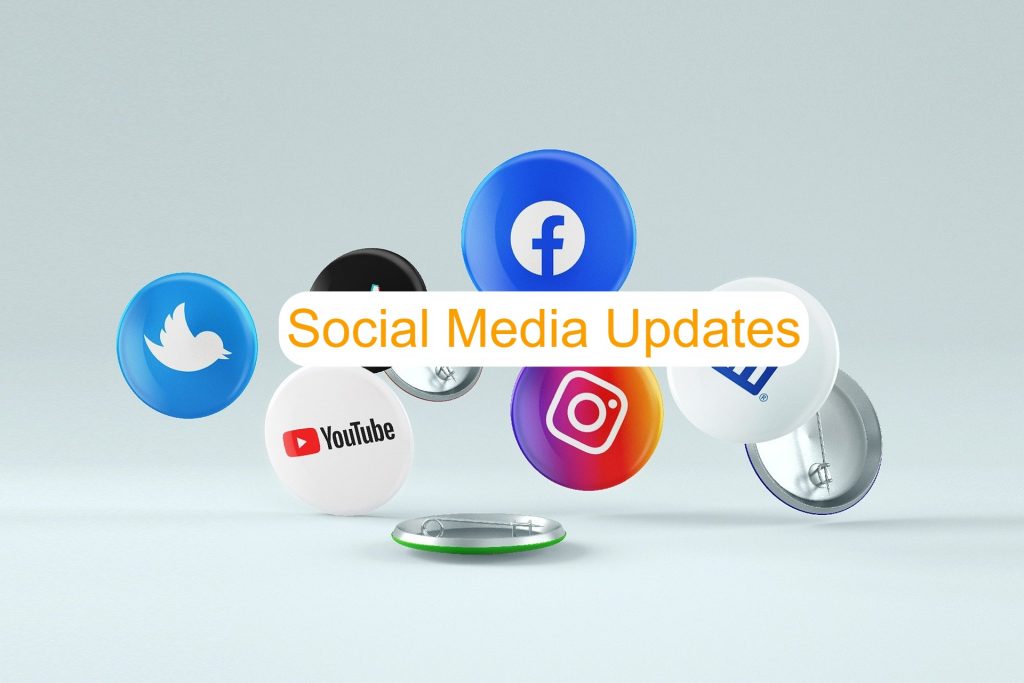 ✅ Updates in Meta
Meta, previously known as Facebook is known for bringing updates to its platform very frequently. This time it has brought two new features in its platform.
Holiday-themed elements to Messenger
Christmas is just a day away from us and in order to make this great festival more exciting and fun for its users, Meta has added some new, holiday-themed elements to Messenger which includes new Soundmojis, seasonal AR effects.
The new AR effect which has been created in collaboration with beauty influencer Ashley Strong, adds 'sparkles and shiny snowflakes that appear from your eyes when you blink'.
Meta has also added some new word effects to Messenger. So, now when you message someone Merry Christmas or Happy Hanukkah, you can spark a flood of emojis related to the festival up the screen to give your message an extra themed kick.
Besides these, Meta has also added a range of new holiday elements to Messenger Kids. This has feature such as an option to chat with Santa, new holiday games and themed AR effects.
Meta has also introduced a feature to encourage more funds exchange activity between users within messaging. The funds transfer visuals have got new themes.
Meta has also added new Soundmojis which is an attempt to bring unique dimension to emoji usage.
Tool that animates drawings
Kids like to run their imagination and draw characters for them. Guess what? Now your kids will be able to animate those characters with the help of newly launched tools in Messenger Kids app. This AI-based tool, launched by Meta is able to animate kid's drawings transforming their created characters into moving cartoons which could be a fun thing to do for a lot of kids.
✅ Updates in YouTube
The most video-streamed platform on the planet, YouTube is back with some significant updates.
Updates to YouTube Studio App
This update is aiming to give more flexibility to creators to manage their channels on the go. It will also make it easier for them to monitor performance across both desktop and mobile which earlier was only possible on a desktop device. The major update is the addition of new search filters for comments, allowing creators to use more ways to increase the engagement by interacting with viewers. The new filter option includes
Response status: have I already responded to this comment?
Contains question: does the comment contain a question?
Subscriber count: does the commenter have at least a certain number of subs?
Subscriber status: is the commenter publicly subscribed to me?
Member status: is the commenter a channel member?
Search: Do any comments contain a specific word I want to search for?
This feature will allow you to respond to key comments from mobile ensuring they are responded to in a timely manner.
New Analytics elements to YT Studio app
YT has also added some new Analytics elements to the YT Studio app bringing it more in alignment with the desktop version. This includes insights into returning viewers, comparative view counts and more. With this update, YouTube is also ensuring that the future updates will also be added to the mobile version of the platform.
Expansion of Shorts Funds
Another update is to YT Shorts which is expansion of Shorts Fund to 70 more new regions. This update will enable more creators to get paid for posting highly viewed clips, and new Shorts Analytics tools within YT Studio. YouTube has announced, back in the month of May that it would pay out $100 million over the course of 2021-2022 to top Shorts creators. Previously, this funding was available for creator based in the United States, then in September, YT expanded access to this funding to an extra 30 regions. And now, YT has expanded the access to this program to more than 70 regions making more creators eligible to for Shorts bonuses.
Read also: Latest WhatsApp Updates You Must Know
✅ Updates in Instagram
Embed User profiles on Third-Party Websites
This update is an attempt by Instagram to promote your Instagram presence outside the app, with a new feature to embed a mini-version of your Instagram profile on third-party websites. This option will allow you to link your Instagram profile in other websites directly. This will promote your profile and will refer more and more visitors to your Instagram profile. However, this update is currently available to US users only as of now. Adam Mosseri, chief of Instagram explained this update as:
"You've been able to embed an Instagram photo or Instagram video into a website for many years now. This extends on that idea and allows you to embed a miniature version of your Instagram profile on a website. Maybe you want to showcase your Instagram content on a website somewhere, or link to someone else's."
Summing it up
These social media updates are aiming to making your messaging more fun and engaging during the festival, giving more flexibility to content creators on YouTube and promoting your profile by embedding it on third-party websites. For professional social media marketing help, get in touch with digital marketing agency in New York.